Back to Niihau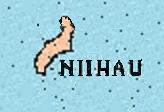 HISTORY
With few exceptions there is very little direct pre-contact history of Ni'ihau. This could be because the spoken language there is Hawaiian. It is definitely due, in a sense to the strict privacy of the island. Hence, what passes for history in the mainstream is speculation, or word-of-mouth.

Captain James Cook on his expedition of 1778 is traditionally thought to be the 1st European to contact the people of Ni'ihau. There is evidence of other Europeans and Asians.

Captain Vancouver recorded in 1793 that the inhabitants of Ni'ihau had almost entirely abandoned it, in consequence of the excessive drought that had prevailed during the last summer. This had nearly caused the total destruction of all its vegetable production. Ni'ihau

[George Vancouver, A Voyage of Discovery to the North Pacific Ocean and Round the World. London 1798, II 185-6,198.]
Scottish Owners

Eliza McHutcheson, age 19, and her husband Captain Francis Sinclair married and operated a farm in the north of Scotland for twenty years. Then in October of 1839, hearing reports of grand opportunities in New Zealand, the Sinclairs, along with other English and Scottish families made the decision to emigrate to New Zealand. The British Government proclaimed New Zealand as a Crown colony in 1840, and Captain Sinclair acquired a grant from the Crown to be selected upon arrival. They landed on South Island and settled at Pigeon Bay.

In 1846 while on a supply trip to Wellington a shipwreck claimed the lives of Francis Sinclair and his oldest son, George, leaving Eliza McHutcheson Sinclair a widow with five other children. She and her children continued to operate the farm in New Zealand until 1863 when they sold it for a handsome profit and sought better farm land.

(Note: the Sinclair's had excellent relations with the Maori).
Eliza Sinclair sailed north with $10,000 to invest and arrived in Honolulu,looking for land to start another farm. King Kamehameha IV, last King of the Kamehameha Dynasty, offered to sell her a parcel of land stretching from present day Honolulu Hale in downtown Honolulu all the way through Waikiki to Diamond Head Crater, today one of the most valuable pieces of real estate in the world. Because much of it was swamp, she turned it down. Instead, she toothe island of Ni'ihau.They resumed sheep and cattle ranching on Niihau and during the 1870s and the family also bought plantation lands on the southwestern side of Kauai at Makaweli. The family eventually built residences on Kauai, feeling Ni'ihau was too isolated. They also started a sugar cane plantation that operates to this day on part of 54,000 acres on Kauai. The sugar cane grows in the lower elevations and cattle graze in the upcountry.
Eliza Sinclair was physically very strong and active into her later years. A visitor to Ni'ihau recorded in 1875 that she was, "A lady of the old Scotch type, beautiful in her old age, very talented, bright, humorous, with a definite character... though upwards of seventy she rides on horseback... as light in figure and step as a young girl." Eliza McHutcheson Sinclair died on Ni'ihau at the age of 93 in 1892.
Her grandson, Aubrey Robinson became the owner of the island. Upon his death in 1936, the island was inherited by his children and is managed to this day by his grandsons, Keith and Bruce Robinson. Though the island never turned a profit in the 20th Century, the Robinson family resisted offers by developers and attempts by government agencies to seize the entire island via eminent domain and convert it into either a tourist mecca with resorts or a large park with military installations.
The Robinson family has always been very patriotic and have sponsered military facilities on the island since prior to World War II. Since taking possession of the island, the Sinclair and Robinson families have been especially protective of the Hawaiians, the Hawaiian language, and heritage on Niihau. They kept Eliza's promise to Niihau to King Kamehameha IV

Ni'ihau is the only island where pure Hawaiians still live and the native Hawaiian tongue is still the language of choice among the residents.